NOTICE
読み
[MOON BYUL] Important Notice About the Delivery of Moon Byul 1st Ontact Live MD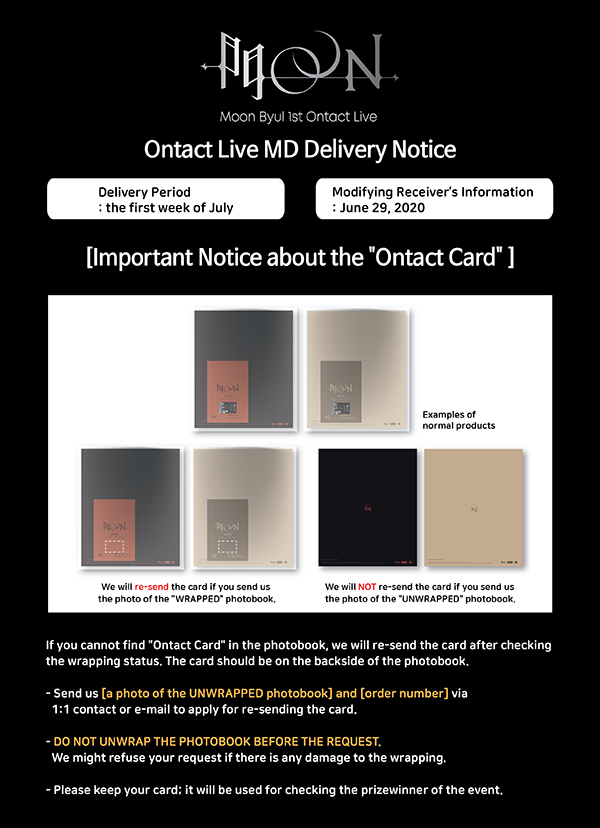 Hello, this is Bizent.
This information is for customers who ordered the Moon Byul 1st Ontact Live MD and/or want to change the recipient's information.
You must change the recipient's information via e-mail until June 29th at 11 AM (KST); any further request after the deadline will be automatically denied due to the delivery schedule; the delivery will be initiated within the Second week of July.
- The products have been delayed in the current manufacturing and shipping process, and we are working hard to ship them as soon as possible.
Each product has a different production schedule, causing a change/delay in the delivery schedule. Those items were produced after the pre-order; there is no sold-out situation in this period; an additional announcement about the regular order will be notified soon.
And Important Notice about the "Ontact Card" .
If you cannot find "Ontact Card" in the photobook, we will re-send the card after checking
the wrapping status. The card should be on the backside of the photobook.
- Send us [a photo of the UNWRAPPED photobook] and [order number] via
1:1 contact or e-mail to apply for re-sending the card.
- DO NOT UNWRAP THE PHOTOBOOK BEFORE THE REQUEST.
We might refuse your request if there is any damage to the wrapping.
- Please keep your card; it will be used for checking the prizewinner of the event.
Thank you.
---
掲示文のリスト

| 番号 | | タイトル | 作成者 | 作成日 | 照会 |
| --- | --- | --- | --- | --- | --- |
| | 普通 | | bizent05 | | 151 |
| | 普通 | | bizent05 | | 103 |
| | 普通 | | bizent05 | | 117 |
| | 普通 | | bizent05 | | 210 |
| | 普通 | | bizent05 | | 207 |
| | 普通 | | bizent05 | | 383 |
| 110 | 普通 | | Bizent | | 1053 |
| 109 | 普通 | | Bizent | | 1100 |
| 108 | 普通 | | Bizent | | 1035 |
| 107 | 普通 | | Bizent | | 1146 |
| 106 | 普通 | | Bizent | | 1058 |
| 105 | 普通 | | Bizent | | 1078 |
| 104 | 普通 | | Bizent | | 1101 |
| 103 | 普通 | | Bizent | | 1099 |
| 102 | 普通 | | Bizent | | 1126 |
| 101 | 普通 | | Bizent | | 1111 |
| 100 | 普通 | | Bizent | | 1104 |
| 99 | 普通 | | Bizent | | 1042 |
| 98 | 普通 | | Bizent | | 1083 |
| 97 | 普通 | | Bizent | | 1105 |
| 96 | 普通 | | Bizent | | 1080 |